The Tomed SomnoGuard AP is a revolutionary mandibular advancement device designed for easier adjustment and a better fit than ever before. Unlike the original SomnoGuard, this MAD is a 2-piece design with a screw adjuster.
Made from a completely different material to other MADs, the SomnoGuard AP has hard outer trays with soft insides. This makes moulding quicker (takes no more than 10 minutes) and best of all, if you require further adjustment, all you do is adjust the screw. This device gives up to 10mm forward protrusion which is much greater advancement than other MADS that generally allow no more than 7-8mm protrusion.
Because this is a 2-piece device you can mould each tray separately for better fitting and there are no limits as to how many times each tray can be moulded. Another great advantage of this device is that it allows some sideways movement making breathing easier should you encounter any problems breathing through your nose.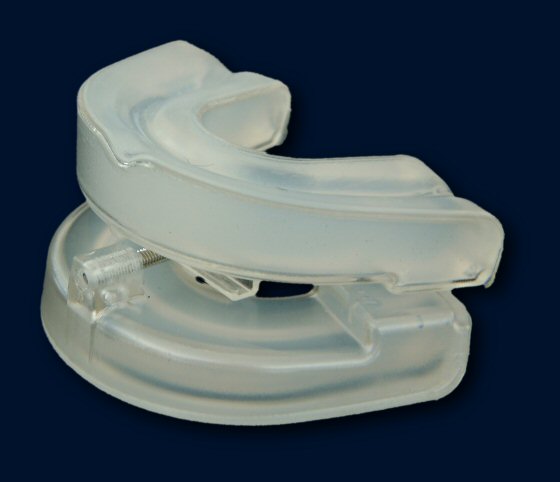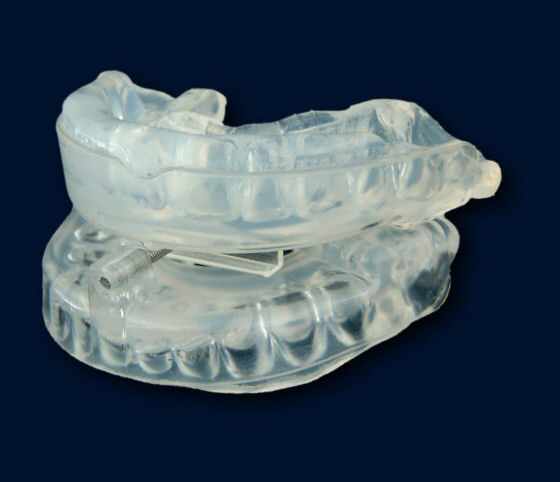 Anyone can mould this device to create a perfect 'click' fit in less than 10 minutes. We have such confidence in this device that we think that once you have tried it you will never want to use any other.
Features Table
Absolutely easy DIY fitting takes only 10 minutes.
Can be remoulded over and over again.
Mouth breathing possible - useful if you have a cold.
Suitable for those with one or two missing teeth.
Impression material in the channels grips the teeth firmly.
Involuntary removal during sleep unlikely because of the tight fit.
Two separate trays, for the upper and lower teeth moulded one at a time.
Advancement made after moulding with the screw adjuster.
2-piece design allows side to side movement of the jaw.
Advancement range 0 - 10mm
A pre-production prototype of the Tomed SomnoGuard AP, prior to its launch, was tested by two of our valued customers. Both are experienced MAD users. They said:
I am very impressed with the SomnoGuard AP, any other devices I have used in the past have necessitated in several visits to the dentist for fittings and then a long wait for the bespoke devices to be ready for me. With the SomnoGuard there is none of this, it is very simple to use and fit.
As soon as this product comes to the market, I would like to order one and a spare immediately. I am extremely satisfied with the simplicity of the device and would highly recommend it to anyone in my situation.
Russell Howell
The fitting and moulding of the device, by comparison with other devices, was extremely easy. A 'good fit' was quickly and correctly achieved.
Bill Crean