Somnowell
The Somnowell is an extremely effective treatment for bruxism. It is made from Chrome Cobalt alloy a very strong material that is impervious to wear from teeth grinding. The smooth surfaces of the Somnowell allow the individual to rhythmically move their jaw during sleep without damaging the tooth enamel.
Extended 8 year warranty. Exclusive to patients referred from The Bruxism Association.
Simply complete the online referral form to receive the details of your nearest Somnowell Practitioner.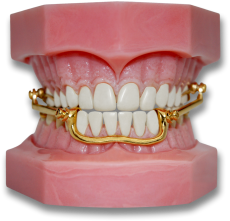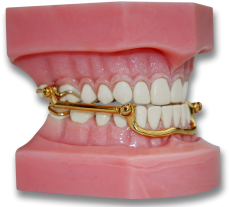 Gold is considered the benchmark of dental materials for long term use in the mouth. Gold crowns will often last for 30 years. Chrome cobalt shares the same key qualities as gold for long term use in the mouth. Its high strength keeps the bulk down, it has excellent durability and longevity, and it has improved oral hygiene. Chrome cobalt does not absorb moisture so micro-organisms cannot colonize the material. Chrome cobalt is already well established as the standard for high quality partial dentures.
The Somnowell MAA is a tailor-made device, individually designed to meet your unique needs. Made from cast chrome cobalt alloy, it is ultra-resilient and outperforms all acrylic plastic and thermoplastic devices. The Somnowell MAA is impervious to bacteria and best for oral hygiene.
The Somnowell MAA is thin, small and discreet. With minimal infringement on tongue space and free vertical and lateral jaw movement. It takes up very little space in the mouth, it is so comfortable you won't even notice you are wearing it. Chrome cobalt does not suffer from wear or tear in the oral environment, so it will look and feel the same after years of use.
The Somnowell was invented by Dr Simon Ash. He is a Consultant and Specialist Orthodontist with over 30 years clinical experience and a special interest in bruxism and temperomandibular joint disorder. Dr Ash is intimately involved in the construction of each Somnowell MAA made for Somnowell Dental Practitioners. Your local Somnowell Dental Practitioner will take the detailed recordings needed to construct your Somnowell MAA. Your recordings will be sent to the Somnowell laboratory where Dr Ash will personally oversee the checking of your records, plus the design and construction of your Somnowell appliance.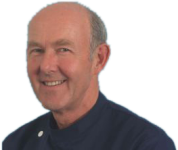 Features
The world's leading oral appliance for bruxism.
Individually designed by a senior Consultant.
Made from resilient cast chrome cobalt alloy, outperforming all acrylic plastic and thermoplastic devices.
Best for oral hygiene, suitable for long term wear in the mouth.
Thin, small, and discreet, the Somnowell MAA is amazingly comfortable.
Minimal infringement on tongue space and free vertical and lateral jaw movement.
Truly effective lifetime solution, with no recurring costs.
Highest level of medical care and expertise.
Tailor made comfort with minimal interference.
Practical alternative to surgery and other uncomfortable options.
Testimonials
A Professor of Medicine from London, England: "life-transforming"
"When I consulted a colleague and expert in sleep medicine concerning my persistent fatigue and inability to concentrate I was not amused to hear he considered I needed to use a mandibular advancement device. Using the Somnowell system was not only straightforward but also life-transforming, enabling me to sleep soundly and to awake refreshed and ready for work for the first time in years."
---
A Professor from Oxford, England: "amazingly effective"
"Your Somnowell device is a brilliant invention. I have been wearing it now for three months and it has been amazingly effective. It is preventing me from snoring, which is a great boon for my wife. From the moment I started to wear it she was no longer subjected to the night long deafening foghorn which used to wake her up and disrupt her sleep.

Moreover, it has solved the problem of my sleep apnoea, which was potentially dangerous. I feel as if I breathe better at night, am getting a better quality of sleep, and I wake up in the morning refreshed rather than tired."
---
A Health Care Professional from Dublin, Ireland: "eternally grateful"
"I write to commend your Somnowell device which I acquired 5 months ago. Firstly, it has conquered my snoring problem and my spouse is eternally grateful. Secondly and of equal consideration, it appears to have greatly reduced and possibly removed my sleep apnoea condition, to the extent that I have given up the CPAP machine which was cumbersome, uncomfortable and medically challenging with its need for extensive sterilisation on an almost daily basis.

By contrast, your small, neat and efficient device is easy to maintain and a portable delight for those of us who need to travel frequently. Your after care service is a blessing and the minor adjustments which you have been able to make to the device for perfect mouth fit are evidence of its flexibility. I wear my device every night without fail."
---
An Engineer from Surrey, England: "amazing results"
"I write to thank you so much for all your advice, care and attention when measuring, fitting and supplying my customised Somnowell device.

I have since been using this device regularly and both my wife and I are delighted with the amazing results this device has provided, eliminating 95% of my previously horrendous snoring problems.

Apart from the fact that we're now both getting a full and deep nights sleep, I also find I'm feeling much more dynamic, energetic and alert during the day, a colossal extra benefit that was totally unexpected!

I must say both my wife and I are delighted with the major benefits to our marital relationship that the use of your Somnowell device has achieved and that I myself am amazed and delighted at the comfort and overall quality of the device itself."
---
A Sales Director from Cologne, Germany: "very happy"
"Now it is about 3 months later. I put the Somnowell in a minute before I sleep; there are no side effects. I do not snore, I do not choke, I do not cough, I can talk with the Somnowell in, and I can even drink with it in. I am very happy that I was recommended to contact Somnowell and obtained the information about the Somnowell device as I find it easier and more comfortable to use than the CPAP machine.

I now go to sleep much later than I used to, and after about 6-7 hours I am wide awake."
---
An Administrator from Essex, England: "major improvement"
"A few months have now passed since my Somnowell was supplied and generally I must say there has definitely been a major improvement. My husband now sleeps in the same room and the sound has reduced by 70% to 75%.

For us it has been a success and we are happy to talk about the appliances and recommend to those who have a similar problem, although generally it is their partners who are far more interested!

Thank you for your years of research and the development of the Somnowell appliance, solving a problem which many consider to the fault of the snorer."
---
A Retiree from Costa Blanca, Spain: "delighted"
"For many years I had experienced day-time tiredness and snored very heavily when sleeping.

I consulted my G.P. and was referred to a Consultant Physician. The diagnosis was that I had sleep apnoea and I was put on a waiting list for a CPAP machine.

Whilst waiting for the machine I had surgery (privately) to try and alleviate the snoring, which was a great disruption to family life. I had surgery to my nose and throat, which was expensive, painful and did not work.

In February I was seen by Mr Ash who provided me with a Somnowell appliance, which I wear when sleeping to hold my lower jaw in a forward position.

The two-piece device is small, weighs only a few ounces and is comfortable to use. It is so effective I have been able to return the CPAP machine to the sleep clinic.

I am delighted with the replacement of the CPAP machine with the Somnowell appliance and would hope that other sleep apnoea patients will be able to benefit from similar treatment."
---
A Teacher from Kent, England: "transformed our lives"
"I refer to my recent consultation which completed my treatment for snoring and sleep apnoea.

I therefore just wanted to write and thank you for all your help, and to place on record the extent of the success achieved with the Somnowell appliance which you fitted.

As you know, the snoring which resulted from my condition, had reached a point where it was causing my wife considerable distress. Once the appliance had been fitted, my wife estimated that the level of my snoring reduced almost immediately by between 85% and 90%.

I would therefore regard the treatment as having been a huge success, and I would not be exaggerating if I described it as having transformed our lives. My wife reports that she now enjoys a night's sleep without being disturbed by my snoring, and this has left us feeling less tired and irritable."
---
To receive the details of your nearest Somnowell Practitioner, simply complete the online referral form.